Twitter Team
© 2012 Book Lovin' Mamas. All Rights Reserved.. Powered by
Blogger
.

Important Announcement for our Followers
To ALL our followers....It is time for Book Lovin' Mamas to make the switch from Blogger to Wordpress.
We do not want to wake up one day and notice that we cannot logon to our blog due to Blogger changing its policies.
We have worked too hard to have that happen...so it is long overdue, we have moved over to our domain.
It will make it easier for YA'LL to find us.
We have already started to post over at the new site...and August 1st will be official day we say GOODBYE to this site for good.
We would love for you to follow us over at our new site because we LOVE and appreciate you all for being with us on our Blogger site.
You can even click our blog badge below to go to our new site -
~*~*~*~*~*~*~*~*~*~*~*~*~*~*~*~
We hope to see everyone of you over there and I hope you all are prepared for lots of giveaways coming in August and are prepared for Anna & I's big 30th birthday bash - August 18th-September 5th.
We have lots of stuff to giveaway to you all and we are bringing our 30th birthday in style. =)
GOODBYE Blogger - It was nice while it lasted...but it's time for a BIG change and to make it easier for our followers to find us. =)

Thursday, March 1, 2012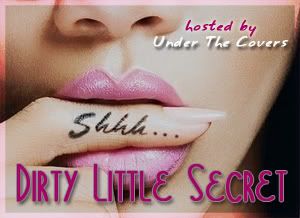 Dirty Little Secret is a weekly meme hosted by us at Under the Covers. Every Thursday we get to know other bloggers and our readers more intimately by asking them a question hoping to reveal their dirty little secrets. We hope that you will all join us!
Which author introduced you to urban fantasy or paranormal romance?
Our Answer:
Anna:
My very first paranormal romance was Maya Banks' Golden Eyes and Amber Eyes and from those two I found Rhyannon Byrd. I can't really remember how but I'm so thankful they led me to my very favorite author and her Primal Instinct series. And thank goodness I got bored with regular old contemporary romance because if I hadn't I might never have found PNR which I now can NOT live without. :)
This is a easy answer for me. My first Urban Fantasy Novel was from Anne Rice and that was back in High school. *Cough* 11 years ago. Yes, I'm that old.
I read "The Mummy" by Anne Rice and was hooked. I need to read her books again since it's been that long.
As for Paranormal Romance...I didn't get into it until another Mom friend introduced me to the Black Dagger Brotherhood Series by J.R. Ward in 2009. It had been awhile since I read any kind of book since I was in the Navy at the time. Once I started reading "Dark Lover"....I had a hard time putting it down. My poor hubby got neglected until I read all the books from the Series, until I was all caught up. I have to say J.R. Ward definitely made me become very addictive to Paranormal Romance...and I don't think I'm ever going to stop my addiction. I love me some Vampires, Werewolves, etc.
2 comments:
Great answers! I couldn't get through Anne Rice. Interview with the Vampire just dragged on and on for me. Love Ward and the BDB brothers. I'm still trying to catch up on that series!

My DLS

Ning @ Reading by Kindle Fire
Never Read any Ann Rice. Have to someday. It's BDB for me. It was live at first Page.
~Angela @UTC
Post a Comment