Twitter Team
© 2012 Book Lovin' Mamas. All Rights Reserved.. Powered by
Blogger
.

Important Announcement for our Followers
To ALL our followers....It is time for Book Lovin' Mamas to make the switch from Blogger to Wordpress.
We do not want to wake up one day and notice that we cannot logon to our blog due to Blogger changing its policies.
We have worked too hard to have that happen...so it is long overdue, we have moved over to our domain.
It will make it easier for YA'LL to find us.
We have already started to post over at the new site...and August 1st will be official day we say GOODBYE to this site for good.
We would love for you to follow us over at our new site because we LOVE and appreciate you all for being with us on our Blogger site.
You can even click our blog badge below to go to our new site -
~*~*~*~*~*~*~*~*~*~*~*~*~*~*~*~
We hope to see everyone of you over there and I hope you all are prepared for lots of giveaways coming in August and are prepared for Anna & I's big 30th birthday bash - August 18th-September 5th.
We have lots of stuff to giveaway to you all and we are bringing our 30th birthday in style. =)
GOODBYE Blogger - It was nice while it lasted...but it's time for a BIG change and to make it easier for our followers to find us. =)

Thursday, March 22, 2012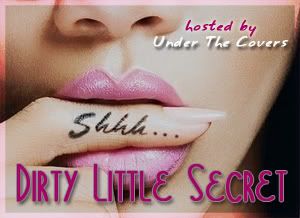 Dirty Little Secret is a weekly meme hosted by us at Under the Covers. Every Thursday we get to know other bloggers and our readers more intimately by asking them a question hoping to reveal their dirty little secrets. We hope that you will all join us!
This week's question:
How do you go about reviewing 1 or 2 star books or books you didn't enjoy?

Anna
I really try not to give lower than 2 stars if I can help it and I really really hate giving bad reviews. If I do have a bad review though, I try my hardest to point out the good things first and I'm as nice as I possibly can be when I point out the bad. For me to give a 1 star review means that book was really really really bad and honestly, unless I've promised to read and review for an author I won't even finish a book that bad. 2 stars for me usually mean I didn't like it but it wasn't a bad read, just not for me.

I actually have a review I need to write today that's gonna be a 2 star book review. I really don't want to hurt the authors feelings, since she asked me to review it, but like FranJessca pointed out they need that criticism to improve on future books. I'm just one of those people who likes to please, not upset so it's kinda hard for me but I still do it.

FranJessca
I've never enjoyed giving a book 1 or 2 stars, but after reading a blog post from one of my favorite Authors who said she enjoyed reading lower ranked reviews for her books because she actually would learn what she had to do for the next book to fix it. She wanted to know what would capture her fans hearts again.
If I read a book that has a 1 or 2 star review to it, I tend to ignore the reviews on it. I want to make my own opinion on the book. Everyone has their own opinion on books. I may end up liking the book when others didn't. For example, I read a YA book that a lot of people were bad mouthing the Author for killing off a favorite main character in their reviews. I ended up liking it because the Author had guts to kill one of the main characters like that.
I've never not finished a book if I wasn't enjoying it. I'll set it down for awhile and come back to it and maybe it will capture my attention again. All and all, I will finish a book no matter what, it just will take me longer to read it. When typing up a review for the book I didn't really like, I will be respectful towards the Author and not make a HUGE drama review like some reviewers do. That's just not in my nature to do. I want the Author to know what I liked about the book and what I didn't like. I never will be disrespectful because I always think how hard the Author put into the book to write it. Some of them, give up time away from their families to write a book.