Twitter Team
© 2012 Book Lovin' Mamas. All Rights Reserved.. Powered by
Blogger
.

Important Announcement for our Followers
To ALL our followers....It is time for Book Lovin' Mamas to make the switch from Blogger to Wordpress.
We do not want to wake up one day and notice that we cannot logon to our blog due to Blogger changing its policies.
We have worked too hard to have that happen...so it is long overdue, we have moved over to our domain.
It will make it easier for YA'LL to find us.
We have already started to post over at the new site...and August 1st will be official day we say GOODBYE to this site for good.
We would love for you to follow us over at our new site because we LOVE and appreciate you all for being with us on our Blogger site.
You can even click our blog badge below to go to our new site -
~*~*~*~*~*~*~*~*~*~*~*~*~*~*~*~
We hope to see everyone of you over there and I hope you all are prepared for lots of giveaways coming in August and are prepared for Anna & I's big 30th birthday bash - August 18th-September 5th.
We have lots of stuff to giveaway to you all and we are bringing our 30th birthday in style. =)
GOODBYE Blogger - It was nice while it lasted...but it's time for a BIG change and to make it easier for our followers to find us. =)

Thursday, March 29, 2012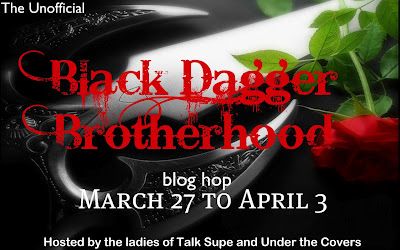 Absolutely love the fact that Talk Supe and Under the Covers created this Blog Hop. I get to share my love of the BDB Men who I have adored thanks to another Mom friend introducing me to these books back in 2009. This Series actually helped me out so much when I was going through a rough patch in my life. I was able to get away from reality for awhile with this Series, which I needed. One thing on my Bucket list is to meet J.R. Ward eventually to thank her for writing this amazing Series.
Lover Unleashed
(Black Dagger Brotherhood #9)
Publishing Date: 3/29/11
Publisher: NAL Hardcover
Genre: Paranormal Romance
Source: Hardcover (Bought)
Description:
Payne, twin sister of Vishous, is cut from the same dark, warrior cloth as her brother: A fighter by nature, and a maverick when it comes to the traditional role of Chosen females, there is no place for her on the Far Side… and no role for her on the front lines of the war, either.
When she suffers a paralyzing injury, human surgeon Dr. Manuel Manello is called in to treat her as only he can- and he soon gets sucked into her dangerous, secret world. Although he never before believed in things that go bump in the night- like vampires- he finds himself more than willing to be seduced by the powerful female who marks both his body and his soul.
As the two find so much more than an erotic connection, the human and vampire worlds collide … just as a centuries old score catches up with Payne and puts both her love and her life in deadly jeopardy.

My Review:
I waited a year to read this book because I wanted to make sure I didn't go insane waiting for the next book. It drove me crazy waiting for "Lover Unleashed" after I read "Lover Avenged".
I've been a fan of J.R. Ward since 2009 when the BDB Series was introduced to me by another Mom friend.
When J.R. Ward writes a book, she writes a book which will have you in tears, will have you mad and will also have you laughing (In your head or even out loud, like I did several times. Even though my hubby gave me strange looks every time). Her writing style is not like any other Author I've read from, which makes me adore her even more. She takes you back into lives of other characters that you have already read about. She also goes into what she may write about next. In Lover Unleashed, she tells the mating of Manuel Manello (which I just love his name..it rolls off your tongue perfectly, I could say over and over again) and Payne who is Vishous's twin sister. She goes back into the lives of Vishous and Jane, goes into the head of Quinn, takes you on a ride with the Caldwell cops, and also tells the story of Xcor from past and present.
Three things that made this book so good I thought was the times I cried or almost cried. First, Payne being paralyzed and what she has to go through. What would you do if you were unable to walk after one incident? I think I would've took it the same as Payne did. When Manny finally introduced a solution to her problem, that even had me in tears. Second, Quinn's dilemma with his feelings for Blay. You can't just cut off feelings for a person in one day or even one second. He tried though in this book. Lastly, what Vishous and Jane went through which made me want to go into the book and kick the hell out of Vishous. Although, the guy went through hell with his father and is still suffering from it, which I can't be mad at him for long. Vishous had so much help from his best friend, Butch who I love even more after this book. Poor Jane though, she was just looking out for her mate in the long run.
I adore how Manny was able to handle Vishous, when Vishous was being the over-protective brother Payne. He had some balls. Vishous is one character if he was real, I would not ever mess with, even if I was just joking with him.
The only thing I didn't like about this book, was it was lacking in the love scenes that J.R. Ward usually puts into her books. I'm not mad though because I can understand why. Payne was never with a man and Manny didn't want to take advantage of Payne. A very decent and loving man, which I hate to say is hard to come by in the real world. When Payne and Manny did hook up...(fans self)...it was amazing. Love when J.R. Ward can write up a love scene that makes you feel the emotions of the characters. That's just not writing up the wham bam thank you mam part either. It's the work up and work down part too.
I recommend this book to anyone who loves Paranormal Romance and loves strong sexy Vampire Men who are very protective of their mates. Readers who also enjoy some strong, sexy Women characters who can tame these Men (or at least try).
I stayed up late at night to read this book and I definitely don't regret it one bit.I lost a lot of sleep at night and woke up as a zombie during the day, but it was well worth it in the end. (It also helps with a lot of coffee and determination to get through the day so you can get back to reading at night). If I had to do it all over again, I would. My husband though thinks otherwise.
I'm looking forward to reading "Lover Reborn" now after reading "Lover Unleashed". I love getting back to the BDB Men. They take me away from my world of changing diapers and doing homework.