Author Spotlight
Series Spotlight
Twitter Team
© 2012 Book Lovin' Mamas. All Rights Reserved.. Powered by
Blogger
.
Important Announcement for our Followers
To ALL our followers....It is time for Book Lovin' Mamas to make the switch from Blogger to Wordpress.
We do not want to wake up one day and notice that we cannot logon to our blog due to Blogger changing its policies.
We have worked too hard to have that happen...so it is long overdue, we have moved over to our domain.
It will make it easier for YA'LL to find us.
We have already started to post over at the new site...and August 1st will be official day we say GOODBYE to this site for good.
We would love for you to follow us over at our new site because we LOVE and appreciate you all for being with us on our Blogger site.
You can even click our blog badge below to go to our new site -
~*~*~*~*~*~*~*~*~*~*~*~*~*~*~*~
We hope to see everyone of you over there and I hope you all are prepared for lots of giveaways coming in August and are prepared for Anna & I's big 30th birthday bash - August 18th-September 5th.
We have lots of stuff to giveaway to you all and we are bringing our 30th birthday in style. =)
GOODBYE Blogger - It was nice while it lasted...but it's time for a BIG change and to make it easier for our followers to find us. =)
Thursday, May 3, 2012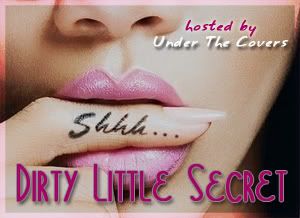 Dirty Little Secret is a weekly meme hosted by us at Under the Covers. Every Thursday we get to know other bloggers and our readers more intimately by asking them a question hoping to reveal their dirty little secrets. We hope that you will all join us!
This week's question:
If we were unforgivable rude and snatched your purse from you, what would we find inside?


Anna: Easy to answer for me. Thanks to my wonderful friend Erika, I have a Kindle purse. It fits my Kindle(perfectly), which w/ it's case is my wallet also, so that, my cell phone, a pack of wipes and an extra diaper(for my son) is all you'll find. Sometimes you'll find a paperback too, just depends on what I'm reading at the time. :) I don't wear make-up, ever, so I don't need much. And since FranJessca took a picture, I'll add one too.




FranJessca: I do not carry a purse these days due to having a baby last November. I carry my diaper bag everywhere which has my amateur camera (Canon), Kindle, wallet, diapers, baby wipes, bottles, extra baby clothes, burp cloth, some makeup (lip balm, blush, eye shadow, concealer, eye liner), 100 SPF sunblock because I'm fair skin (the sun hates me), my Iphone, my keys, water bottle, receipts, and various papers and things from my 6 year old daughter who likes to put her toys and such in my bag because she doesn't want to carry it.
I also carry my camera bag which is an extension of my arm (2nd photo): professional camera (Nikon), various lenses, and flash. If I do not have to carry my diaper bag around, you'll catch me with my camera bag more than a purse/diaper bag. I also have a Shootsac bag that carries my various lenses (but I try not to carry it around that much, unless for photo shoots).
3 comments:
Love that Kindle Purse!

And FranJessca you probably win for the most items to carry around, but of course with a baby I'm surprised it's not more than that!

Francesca
Love the pretty purple colors.

Aren't you worried about carrying round an expensive camera?

Here's my Dirty Secret.
Francesca - I try to clean it out every week. My oldest will try to use it as her purse too. LOL I can't wait to go back to a actual purse once my youngest is potty trained.

Lauren - No worries...because I do not let it out of my sight. Sometimes I'll just bring the Canon instead of the Nikon. I do photo shoots a lot with my kids because they are growing up way too fast so I do not want to miss anything. =)
Post a Comment