Author Spotlight
Series Spotlight
Twitter Team
© 2012 Book Lovin' Mamas. All Rights Reserved.. Powered by
Blogger
.
Important Announcement for our Followers
To ALL our followers....It is time for Book Lovin' Mamas to make the switch from Blogger to Wordpress.
We do not want to wake up one day and notice that we cannot logon to our blog due to Blogger changing its policies.
We have worked too hard to have that happen...so it is long overdue, we have moved over to our domain.
It will make it easier for YA'LL to find us.
We have already started to post over at the new site...and August 1st will be official day we say GOODBYE to this site for good.
We would love for you to follow us over at our new site because we LOVE and appreciate you all for being with us on our Blogger site.
You can even click our blog badge below to go to our new site -
~*~*~*~*~*~*~*~*~*~*~*~*~*~*~*~
We hope to see everyone of you over there and I hope you all are prepared for lots of giveaways coming in August and are prepared for Anna & I's big 30th birthday bash - August 18th-September 5th.
We have lots of stuff to giveaway to you all and we are bringing our 30th birthday in style. =)
GOODBYE Blogger - It was nice while it lasted...but it's time for a BIG change and to make it easier for our followers to find us. =)
Tuesday, May 15, 2012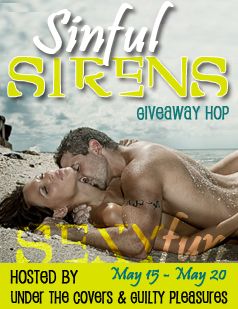 Are you a Sinful Siren?
I know we are!!! This blog hop is to show off our favorite scorching hot reads to heat things up for this summer! Mari Carr's Wild Irish series is one of my very favorite series and it's scorching hot! Seriously, she can write one sexy love scene!!! ;) I'm a huge fan of Mari's, I've read pretty much everything she's written, so I knew immediately that I wanted to choose one of her books for this giveaway hop.
I love this series because not only is it oh so sexy, the characters are so likable and real. And the romances between all of them are so sweet. So here's a bit about the first two books in the series...
Wild Irish #1
Monday's child is fair of face…
After the death of her mother years prior, Keira Collins willingly put aside her dreams to become a surrogate parent to her six younger brothers and sisters. At twenty-seven, she's finally pursuing a college degree. Between classes, working at the family pub and still tending to siblings, she's no time for romance. So why is she spending all her rare free time fantasizing about hot Professor Wallace bending her over his desk?
Will Wallace recognizes Keira's unfulfilled desires, her habit of hiding her beauty, her obsessive need for control in every aspect of her life. But Will has needs of his own—and they run far darker than Keira's. As he initiates her into his lifestyle, offering sweet punishments and sweeter rewards, Will's sexual authority slowly strips away some of her precious control. The one thing Keira's not ready to relinquish…
Wild Irish #2
Tuesday's child is full of grace…
Sky Mitchell is hiding out in Baltimore, seeking peace and solitude while he struggles with a career decision. Lead singer of popular rock group The Universe, he's thinking of going it alone. Wandering into an Irish pub, he's ecstatic to discover the breakout single for his solo album—but the songwriter doesn't want to sell. He challenges the woman to a contest. Not only does he win the song, but also a songwriting partner to complete the rest of the album.
Teagan Collins is sure of her talent but she's never aspired to fame and fortune. She's content singing folk tunes in her family's pub. Working on an album with Sky tests her patience…and her libido. The hot rocker plays her body like a fine instrument, their desire deepening with each song they write.
But someone doesn't want Sky to go solo, and will stop at nothing to sabotage the couple's efforts. Undaunted, Sky wants Teagan to join him onstage at his farewell concert to sing her original, "Maybe Tomorrow"…
If they make it through today.
I have purchased a copy of Wild Days by Mari Carr, which includes the first
two books in this series, for our giveaway. In order to enter you just need to be a follower and fill our the rafflecopter form below. Make sure you check out ways to earn extra entries too. Good luck!!! And don't forget to check out all of the other awesome giveaways at participating blogs on the list below.
(For U.S. & Canada Residents ONLY)
You can find more books by Mari Carr HERE.
a Rafflecopter giveaway
2 comments:
thanks for the chance to win :)

raynman1979@yahoo.com
I LOVE Mari Carr too...thx for the winning op!
Post a Comment