Author Spotlight
Series Spotlight
Twitter Team
© 2012 Book Lovin' Mamas. All Rights Reserved.. Powered by
Blogger
.
Important Announcement for our Followers
To ALL our followers....It is time for Book Lovin' Mamas to make the switch from Blogger to Wordpress.
We do not want to wake up one day and notice that we cannot logon to our blog due to Blogger changing its policies.
We have worked too hard to have that happen...so it is long overdue, we have moved over to our domain.
It will make it easier for YA'LL to find us.
We have already started to post over at the new site...and August 1st will be official day we say GOODBYE to this site for good.
We would love for you to follow us over at our new site because we LOVE and appreciate you all for being with us on our Blogger site.
You can even click our blog badge below to go to our new site -
~*~*~*~*~*~*~*~*~*~*~*~*~*~*~*~
We hope to see everyone of you over there and I hope you all are prepared for lots of giveaways coming in August and are prepared for Anna & I's big 30th birthday bash - August 18th-September 5th.
We have lots of stuff to giveaway to you all and we are bringing our 30th birthday in style. =)
GOODBYE Blogger - It was nice while it lasted...but it's time for a BIG change and to make it easier for our followers to find us. =)
Saturday, June 9, 2012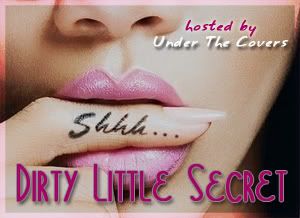 Dirty Little Secret is a weekly meme hosted by us at Under the Covers. Every Thursday we get to know other bloggers and our readers more intimately by asking them a question hoping to reveal their dirty little secrets. We hope that you will all join us!
This week's question
:
Share your experiences with blogging! List TWO "Don't" and one "Do" when it comes to blogging and reviewing.
Our Answer:
Don't PLAGIARIZE! Don't take other people's hard work and pass it as your own. Not only are you going to get in trouble for it, get embarrassed online, but it's also TACKY. It tells everyone you can't come up with your own reviews and such.
I'm a freelance Photographer also and I run a business...I've had photos of mine taken and posed on other sites without my permission. I put a lot of work into my photos: taking them, editing them...it really irks me when someone can't read the copyright law that protects Photographers from having their work stolen. Needless to say, those other sites who had my photos found out the raging, feisty red-head in me, means business.
DON'T BASH other bloggers and Authors on your blog. I find that really unprofessional.
Do make friends with other book bloggers. I love chatting with other people who enjoy reading. I can't talk to my hubby about books and characters because he just looks at me crazy.
That is why I'm so glad I have my partner in crime, Anna. =)
I don't have to think I'm going crazy because I'm talking about books to her and their just fiction.
2 comments:
great DLS :) I completely agree with your Don'ts and Do! Plagiarizing is a big one, and I've seen a lot of answers for that one. I myself listed that one. It really is tacky!

On a side note, how long have you been a Photographer?

Ana♥ MY DLS
Ana,
I've been a Freelance Photographer since 2006. I'm actually taking a break from it since I'm focusing on college and of course reading way TOO many books. =) Plus...I'm adjusting to having a baby in the house again, who is a BIG Mama's girl.

-FranJessca
Book Lovin' Mamas
Post a Comment