Twitter Team
© 2012 Book Lovin' Mamas. All Rights Reserved.. Powered by
Blogger
.

Important Announcement for our Followers
To ALL our followers....It is time for Book Lovin' Mamas to make the switch from Blogger to Wordpress.
We do not want to wake up one day and notice that we cannot logon to our blog due to Blogger changing its policies.
We have worked too hard to have that happen...so it is long overdue, we have moved over to our domain.
It will make it easier for YA'LL to find us.
We have already started to post over at the new site...and August 1st will be official day we say GOODBYE to this site for good.
We would love for you to follow us over at our new site because we LOVE and appreciate you all for being with us on our Blogger site.
You can even click our blog badge below to go to our new site -
~*~*~*~*~*~*~*~*~*~*~*~*~*~*~*~
We hope to see everyone of you over there and I hope you all are prepared for lots of giveaways coming in August and are prepared for Anna & I's big 30th birthday bash - August 18th-September 5th.
We have lots of stuff to giveaway to you all and we are bringing our 30th birthday in style. =)
GOODBYE Blogger - It was nice while it lasted...but it's time for a BIG change and to make it easier for our followers to find us. =)

Tuesday, July 10, 2012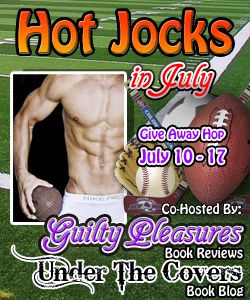 Do football or baseball butts drive you nuts? Do you love to see sweaty men chasing after each other? Tackling each other? Does the sight of a pair of sexy calves kicking a ball down field heat you up? Do NASCAR drivers rev your engine?
YES to all of the above for the GP Review Crew and the UTC Maidens. Even though it's summer, nothing's stopping us from HEATING up our days and nights with HOT JOCKS! Join Guilty Pleasures and Under The Covers for locker room talk about some of our favorite JOCK romances.
Here at Book Lovin' Mamas...we love our JOCKS!
There's something about a man who wears sports uniforms, and sweats while he plays hard. (of course...there's the moment the jock takes off his shirt after playing hard too.) Oh, yes...Mamas need Eye Candy too.
FranJessca
: This Book Mama alone has had a HUGE Crush on a certain baseball player who used to get my blood boiling back in the day and he still does even when he's not playing baseball, Brady Anderson (who used to play for the Baltimore Orioles). Have you seen the man's butt?
Oh...don't get me started on Nascar drivers...Dale Earnhardt Jr. can drive me in his car anyday, anytime. (the faster, the better)
I'm going to share my love of "Hard and Fast" by Erin McCarthy. I fell in love with Ty McCordle when reading Hard and Fast. He has ways on pleasing a woman. He does have a secret, he tries to keep from the ladies...but it's actually a secret that his love interest, Imogen found no problem with at all. In fact both myself and Imogen feel that Ty, shouldn't be embarassed over it.
Ty McCordle will always have a special place in my heart now after reading "Hard and Fast" and I thought I share my love of him with you ladies. =)
by: Erin McCarthy
An experiment in romance!

New to Charlotte, stock car racing country, graduate student Imogen Wilson meets Ty McCordle, a driver who inexplicably has her pulse racing. After an encounter at the track with a woman whose main goal in life is to marry a driver, Imogen realizes she's hit on the perfect thesis for her Sociology degree. If she follows The Rules on how to get a man, can she steer her way to into the hearts of the drivers and establish their dating,and mating,patterns?

That's testing the limits of passion.

Although sexy and reckless Ty is the ideal test subject, she knows she can't pursue him for the sake of science. Yet he's the one who's chasing after her, and Imogen realizes that she actually wants to be caught. A southern gentleman like Ty won't fail to disappoint, will satisfy all her curiosity,and make all the risks worthwhile!
Anna
:
*Sigh* I LOVED Mick! What a man!!! Jaci sure knows how to write 'em! When I found this book I think I ruined my under roos just by seeing the cover! I mean, come on?!? Look at it! The guy is way more than sexy, he's SO FREAKIN HOTT!!! ;) But reading it made me love it even more because Mick is definitely all that and more!!! Tara is one lucky lady! I have not yet continued with the series but I guarantee I will be very very soon!!!
by: Jaci Burton
Football pro Mick Riley is an all-star, both on the field and in the bedroom. But a sexy, determinedly single mom just might be the one to throw him off his game...

For years Mick has been taking full advantage of the life available to a pro athlete: fame, fortune, and a different girl in every city. But when he meets and beds confident, beautiful event planner Tara Lincoln, he wants much more than the typical one-night stand. Too bad Tara's not interested in getting to know football's most notorious playboy any better.

As the single mother of a teenage son, the last thing Tara needs is the jet-set lifestyle of Mick Riley; even though their steamy and passionate one-night stand was unforgettable. Tara's life is complicated enough without being thrust into the spotlight as Mick's latest girl du jour. Tara played the game of love once and lost big, and she doesn't intend to put herself out there again, especially with a heartbreaker like Mick.

But when Mick sets his mind to win, nothing will stop him. And he has the perfect play in mind.

One Lucky Winner will receive a copy of "The Perfect Play" by Jaci Burton and "Hard and Fast" by Erin McCarthy.
Just fill out the Rafflecopter below for your chance at winning both copies of books.
Good Luck to everyone who enters.
a Rafflecopter giveaway
16 comments:
My favorite sports themed books are Jaci Burton's Play by Play series. I love how she mixes the romance that I love to read with just the right amount of sports to keep me wanting more! I am not a sport fan but with this series I love how she doesn't force the sports on you. Plus the covers are smokin' hot!!

melissalamb(at)musfiber(dot)com
Post a Comment