Twitter Team
© 2012 Book Lovin' Mamas. All Rights Reserved.. Powered by
Blogger
.

Important Announcement for our Followers
To ALL our followers....It is time for Book Lovin' Mamas to make the switch from Blogger to Wordpress.
We do not want to wake up one day and notice that we cannot logon to our blog due to Blogger changing its policies.
We have worked too hard to have that happen...so it is long overdue, we have moved over to our domain.
It will make it easier for YA'LL to find us.
We have already started to post over at the new site...and August 1st will be official day we say GOODBYE to this site for good.
We would love for you to follow us over at our new site because we LOVE and appreciate you all for being with us on our Blogger site.
You can even click our blog badge below to go to our new site -
~*~*~*~*~*~*~*~*~*~*~*~*~*~*~*~
We hope to see everyone of you over there and I hope you all are prepared for lots of giveaways coming in August and are prepared for Anna & I's big 30th birthday bash - August 18th-September 5th.
We have lots of stuff to giveaway to you all and we are bringing our 30th birthday in style. =)
GOODBYE Blogger - It was nice while it lasted...but it's time for a BIG change and to make it easier for our followers to find us. =)

Wednesday, August 15, 2012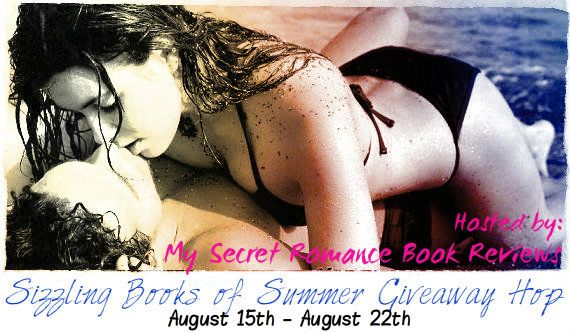 Welcome to our stop on the Sizzling Books of Summer Giveaway Hop. This hop is hosted by My Secret Romance Book Reviews and it's all about showing off our favorite reads of the summer. And to make it super fun we're adding a mixed drink recipe that we think would go along great with our favorite choice. Make sure you check out the list of other participating sites below and our giveaway, which is the rafflecopter. :) Enjoy!!!
Anna's Favorite Book of the Summer
Misplaced Princess
by: Mari Carr
Description
Annie Prince has impetuously flown halfway 'round the world to visit a sexy cowboy she met online—only to find herself stranded in Sydney. Seems she and Dylan crossed wires, and he's on his way to New York. His twin, Hunter, saves the day and whisks her back to the family cattle station. Hunter's as easy on the eyes as Dylan, and even easier to talk to. Annie might have flown to Oz to meet one brother, but soon sparks are flying with the other.
Hunter considered Dylan a dumb arse for jetting off to America for some stranger—until he met Annie. Turns out the New Yorker is a smart, funny, hard-working jillaroo…and hotter than the Aussie desert. Hunter's not normally one to poach his brother's women, but he can't keep his hands, lips, tongue and other body parts off this sexy city girl.
When raging lust leads to emotional attachment, where does that leave Annie and Hunter when her vacation comes to an end—or when Dylan finds out?
Anna's Drink Choice
Margarita Cocktail
Recipe:
1 1/2 oz tequila
1/2 oz premium triple sec (preferably Cointreau)
Rim the glass with lime juice and dip in salt. Shake all ingrdients with ice, strain into glass and serve.
FranJessca's Favorite Book of the Summer
Hell On Wheels
by: Julie Ann Walker
Description
He's the bad boy she's always wanted...
Nate "Ghost" Weller has loved Ali Morgan nearly half his life. But he's done something so heinous he's convinced she'll never forgive him if she discovers the truth, so he keeps his feelings and his secrets to himself. Then she blows into town with a mother lode of bad guys on her tail and Nate can't deny she's in serious trouble. Unfortunately, he's the only one who can help her.
She's the good girl he's kept at arm's length...
Ali knows Nate as the most solemn, aloof man on the planet. Sadly, he's also the sexiest. For years she's avoided him, unable to stomach his dark scowls and brooding silences… especially when she secretly yearns for his touch. Now she must rely on him to save her from the malevolent shadows ghosting her every move. When the bullets explode, so does their passion. But can love really conquer all? Or are some things just too terrible to forgive?
Fran's Drink choice:
Sex on the Beach
Recipe:
1 1/2 oz vodka
1/2 oz peach schnapps
2 oz cranberry juice
2 oz orange juice
Add vodka and peach schnapps to a highball glass over ice. Fill with equal measures of cranberry juice and orange juice and stir.
Thanks for stopping by. I hope we've added a couple more books to your TBR pile. For our Giveaway we will be giving a $10 gift card to winner's choice of Amazon or Barnes and Noble. To enter please leave a comment telling us one of your favorite reads from this summer and make sure to leave your email so we can reach you if you win!
This giveaway is international. As long as you can use a gift card from those two place you can enter.
And don't forget to visit all of these other participating blogs...
47 comments:
I just finished reading "Stygian's Honor" by Lora Leigh. I just love her "breed" series. It is one hot book with a surprise twist. I highly recommend it.
<^_^>
Thanks for being part of the hop and for the chance to win!
reneebennett35(at)yahoo(dot)com

Post a Comment