Twitter Team
© 2012 Book Lovin' Mamas. All Rights Reserved.. Powered by
Blogger
.

Important Announcement for our Followers
To ALL our followers....It is time for Book Lovin' Mamas to make the switch from Blogger to Wordpress.
We do not want to wake up one day and notice that we cannot logon to our blog due to Blogger changing its policies.
We have worked too hard to have that happen...so it is long overdue, we have moved over to our domain.
It will make it easier for YA'LL to find us.
We have already started to post over at the new site...and August 1st will be official day we say GOODBYE to this site for good.
We would love for you to follow us over at our new site because we LOVE and appreciate you all for being with us on our Blogger site.
You can even click our blog badge below to go to our new site -
~*~*~*~*~*~*~*~*~*~*~*~*~*~*~*~
We hope to see everyone of you over there and I hope you all are prepared for lots of giveaways coming in August and are prepared for Anna & I's big 30th birthday bash - August 18th-September 5th.
We have lots of stuff to giveaway to you all and we are bringing our 30th birthday in style. =)
GOODBYE Blogger - It was nice while it lasted...but it's time for a BIG change and to make it easier for our followers to find us. =)

Thursday, September 13, 2012
Publishing Date: 5/24/12
Genre: Paranormal Erotic Romance
Source: Bought (Paperback)
Description:
I am everything forbidden. I am a haunted creature.
I am darkness and shadow.
I am vampire.
I am everything forbidden. I am vampire.
Haunted by betrayal, Saint hides in the human world, giving his heart to no one and finding the only solace from his past in the arms of human women. Now as the Archons begin their takeover of the vampire world, this Son of Navarus has been marked for death.
Summoned to defeat the Archons by the world that shunned him, Saint must face his past and Solenne, the woman he loved and lost a century ago, for only in accepting her will his body and soul finally find salvation.

My Review:
Okay...move over Vasilije because I have a new Sons of Navarus Vampire that I LOVE!!!
Meet Saint, otherwise known as Declan Collins. He's nicknamed Saint due to the fact he has been only with human females for awhile now. He gave up vampire women a long time ago, when a certain vampire female broke his heart. Saint is the next on the hit list for the Archons. The Archons want him dead not only because of him being a Son of Navarus, but for other reasons that even his other fellow vampires do not understand.
The one to protect him and keep him hidden for awhile, is the one and only who broke his heart a long time ago, Solenne. She knows he has never forgiven her for what she did, but she just wants to help keep him alive. She has never stopped loving him and the time she broke his heart was for a good reason...at least that is what she thought because of a certain person threatening her.
Now Saint has to fight his urge of being with Solenne again because the female vamp keeps intruding in his thoughts when he's trying to make love to human female or even think of another female.
Solenne, also has to deal with Saint's new ways and all she wants to do, is give herself over to him like vampires always do.
My thoughts on Blood Betrayed were of course that I LOVED EVERY minute of it. I had a hard time putting it down. I clicked with both characters right away. Saint because of his past with Solenne and Solenne because she was trying everything to get back with Saint even if she had to help him with his human female addiction problem.
The kicker to the story is, not only the Archons trying to kill Saint, but what Solenne has to do to keep Saint safe and the one person who can ruin everything between Solenne and Saint again.
I was on the edge of my seat when it came to Solenne and Saint. I had to keep turning the pages to find out what happened next to the characters. It was a big doozy when the truth finally came out.
I felt terrible for both Solenne and Saint. ( I won't spoil the storyline though for anyone who wants to read this book ).
Oh..and Vasilije and Sasa appear in this book as well as other characters. I'm really wanting to find out about Dante. =)
I highly recommend this book to paranormal romance readers, erotica readers, and vampire lovers out there.
This book will take you on a roller coster of emotions though. Be prepared for some hot sex scenes, sad scenes, and scenes that will make you want to slap someone around. Grrr...I was so mad on what actually happened between Solenne and Saint. Oh...and don't even get me started on what Saint had to deal with in the beginning of it all.
Gabrielle Bisset definitely knows how to get a reader's emotions going like crazy.
Fore warning though...be prepared to take some really cold showers after reading the sex scenes. Saint definitely knows how to take care of a female just like Vasilije did ...maybe a little better though. =)

Gabrielle Bisset will be attending the 2013 Indie Romance Convention as Featured Author...Check out more details of the Convention by clicking the image below. =)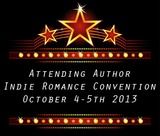 4 comments:
Oh this book looks Hot! Going to add it to my TBR List in GR right now! Great review. :o)
Post a Comment