Author Spotlight
Series Spotlight
Twitter Team
© 2012 Book Lovin' Mamas. All Rights Reserved.. Powered by
Blogger
.
Important Announcement for our Followers
To ALL our followers....It is time for Book Lovin' Mamas to make the switch from Blogger to Wordpress.
We do not want to wake up one day and notice that we cannot logon to our blog due to Blogger changing its policies.
We have worked too hard to have that happen...so it is long overdue, we have moved over to our domain.
It will make it easier for YA'LL to find us.
We have already started to post over at the new site...and August 1st will be official day we say GOODBYE to this site for good.
We would love for you to follow us over at our new site because we LOVE and appreciate you all for being with us on our Blogger site.
You can even click our blog badge below to go to our new site -
~*~*~*~*~*~*~*~*~*~*~*~*~*~*~*~
We hope to see everyone of you over there and I hope you all are prepared for lots of giveaways coming in August and are prepared for Anna & I's big 30th birthday bash - August 18th-September 5th.
We have lots of stuff to giveaway to you all and we are bringing our 30th birthday in style. =)
GOODBYE Blogger - It was nice while it lasted...but it's time for a BIG change and to make it easier for our followers to find us. =)
Monday, October 22, 2012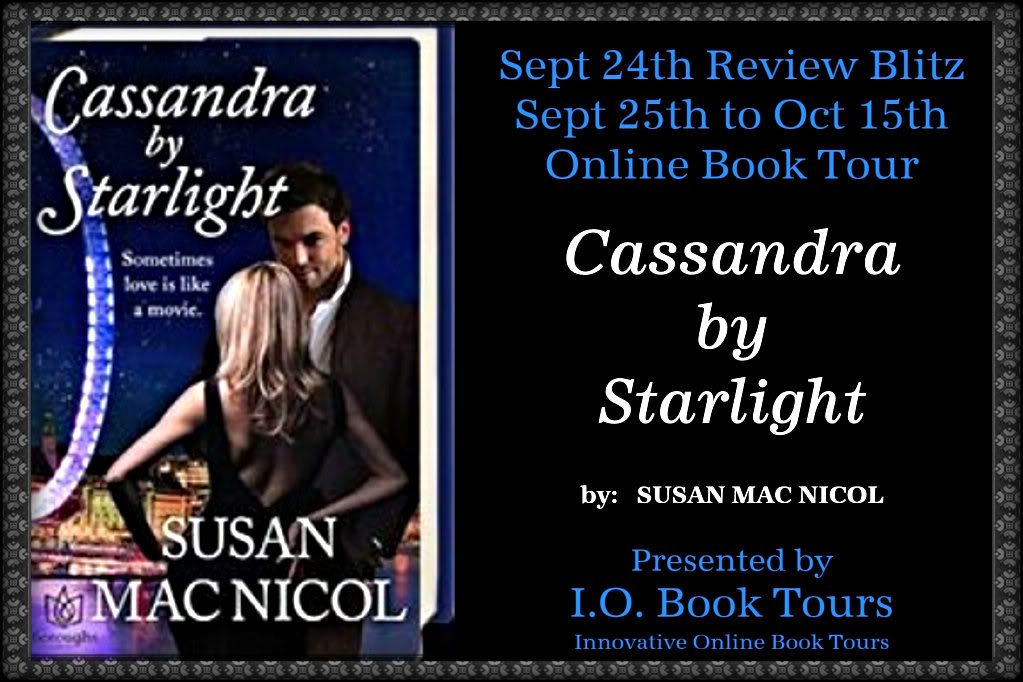 Welcome to our Virtual Book Tour Stop of "Cassandra by Starlight" by Susan MacNicol brought to you by Innovative Online Book Tours.
by: Susan Mac Nicol
Publishing Date: 8/13/12
Publisher: Boroughs Publishing Group
Genre: Contemporary Romance
Source: Provided by I.O. Book Tours from Author
Description:
A London woman is swept off her feet into the glamorous yet surprisingly dangerous world of an up-and-coming star of stage and screen.
Unconventional though she may be, Cassandra Wallace leads the life of an average Londoner, from blind dates to rush hour traffic. Then, along comes Bennett Saville. Charming, erudite, the up-and-coming actor is like the hero of a romantic movie. He sets Cassie afire like he has the stage and screen, and defies the tragedy that brought them together. From the tips of his Armani loafers to their scorching hot first kiss, he's perfect. Only, he's ten years younger and from the upper class, and those emerald eyes invite dangerous secrets. The world is full of hungry leading ladies, and every show must have its villain. Yet a true romance will always find its happy ending.

My Review:
Every once in awhile I come across a book on a book tour that I never would have found on my own that I knew I would love to read. Thank goodness for Innovative Book Online Tours, for introducing me to "Cassandra by Starlight" because I really enjoyed reading about the handsome star, Bennett and the beautiful, courageous, Cassie.
I read the book while on vacation when I couldn't get on the computer that much since I was not around any internet services. (My Mom lives out in the country and doesn't need internet since she has no computer...Eeek! What is a avid reader/blogger supposed to do...well..read of course) =)
Cassie is minding her own business driving to work, when she has a body fall into her car while she is driving. She ends up in the hospital...while the person who fell into her car, ends up committing suicide. The man's family is contacted and one of the family members is the famous actor, Bennett Saville, who drops everything to identify his brother for his family and also make sure the woman that was injured is okay.
Bennett, of course expected to fall in love with Cassie, the sexy, older woman who his brother happened to put in the hospital.
He can't stop thinking about her and wants to know more about her. His father doesn't want him getting involved with the older woman who probably just wants him for his money. His father would rather he hook up with his ex-girlfriend.
Bennett has never a great relationship with his father since what his father put him through when he was a child. He will make up his own mind who he wants to be with.
Cassie is dealing with getting back in the groove of things after the accident, when she has another dilemma happen to her thanks to Bennett's family again.
Bennet has other issues as well, but he will do anything to be with the woman he loves and so will another woman who wants Bennett as her own.
I do not want to give away too much about "Cassandra by Starlight", but let's just say it has a lot going on. Both Bennett and Cassie go through a lot in this book. I felt terrible for Cassie the first half of the book and the last half I was upset for Bennett. Actually...for Bennett, I had a more sickening feeling for him because the pain he went through. In the end though, it all worked out.
Love can conquer anything and this book definitely proved it.
Cassie was one strong-willed character who was amazing. I clicked with her as soon as she was introduced. She went through hell and still managed to be the strongest character out of the book.
Bennett was a pain at times, especially when keeping secrets from Cassie, but I had to give it to him because he had his reasons. Cassie could throw a tantrum.
Let's just say, also, Cassie knew how to keep Bennett in check, especially in the bedroom. =)
I loved Sue Mac Nicol's writing and how she kept the suspense and romance going. One incident would happen and she would make sure to play it out where it fixed it self. She never had too much going on at the same time where you got lost.
I look forward to reading more books from Sue soon.
I recommend this book for readers who love contemporary romance and love a little suspense to it because believe me, Sue gives you some suspense to the story.
I was provided a complimentary copy of "Cassandra by Starlight" by Sue Mac Nicol in exchange for an honest review during the virtual book tour of the book brought to you by Innovative Online Book Tours.

Sue Mac Nicol was born in Headingley, Leeds, in the United Kingdom. When she was eight years old her family emigrated to Johannesburg, South Africa. One day, after yet another horrific story of violence to friends, they decided it was time to leave. In December 2000 they found themselves in the Arrivals area at Heathrow and have stayed in the UK ever since, loving every minute of it.
In between her day job as a regulatory compliance officer for a financial services company in Cambridge and normal daily life, the inspiration for the Starlight series was born; Sue's characters, Cassie and Bennett, finally made their debut onto the flickering screen of a laptop and gave her the opportunity to become a published author—a dream she's had since being a young girl old enough to hold a pencil.
Sue is a member of the Romance Writers of America and the Romantic Novelists Association in the UK. She lives in a town house in the rural village of Bocking, Essex, with her husband of twenty eight years, Gary (who believes he deserves a long service award for putting up with her for so long), two children, Jason, 24, and Ashley, 19, and a mixed collie mongrel called Blu.