Author Spotlight
Series Spotlight
Twitter Team
© 2012 Book Lovin' Mamas. All Rights Reserved.. Powered by
Blogger
.
Important Announcement for our Followers
To ALL our followers....It is time for Book Lovin' Mamas to make the switch from Blogger to Wordpress.
We do not want to wake up one day and notice that we cannot logon to our blog due to Blogger changing its policies.
We have worked too hard to have that happen...so it is long overdue, we have moved over to our domain.
It will make it easier for YA'LL to find us.
We have already started to post over at the new site...and August 1st will be official day we say GOODBYE to this site for good.
We would love for you to follow us over at our new site because we LOVE and appreciate you all for being with us on our Blogger site.
You can even click our blog badge below to go to our new site -
~*~*~*~*~*~*~*~*~*~*~*~*~*~*~*~
We hope to see everyone of you over there and I hope you all are prepared for lots of giveaways coming in August and are prepared for Anna & I's big 30th birthday bash - August 18th-September 5th.
We have lots of stuff to giveaway to you all and we are bringing our 30th birthday in style. =)
GOODBYE Blogger - It was nice while it lasted...but it's time for a BIG change and to make it easier for our followers to find us. =)
Saturday, December 1, 2012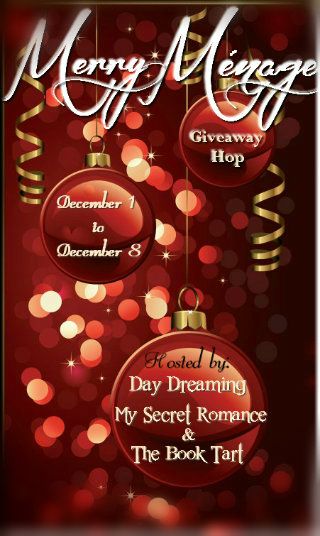 Come join our

Merry

Menage

Giveaway Hop hosted by Day Dreaming, My Secret Romance and The Book Tart!
Need a new bedtime story to light your fire?

Looking for something with a little heat to warm you during the cold holiday season? Feel like decking the halls naughty style? Well then, come join us as we stand under the mistletoe for this wickedly sexy giveaway hop! The more the merrier! Have no worries, we'll help you trim your trees, deck yours halls, and spark that fire!
This year for Christmas all I really want is a day to myself to just sit and read non-stop. No booboos to kiss, no noses to wipe, no kids fights to break up and definitely no husband around to bug me. As a mom I love what I do. I love my kiddos and my husband and taking care of the house but sometimes us mamas really need a break....and that is what I want for Christmas! ;)
For our giveaway I have the perfect book. It's sexy and sweet and very very naughty!!!
One night to indulge their wildest desires…
Adam Lancaster has been in love with Rob McKeith—and attracted to Rob's wife, Shayla—for years, but he fears their friendship would be over if they knew the truth. So he's thrilled when his secret fantasy becomes reality and the couple offers him a very special gift: a sensual Christmas Eve in their bedroom….
You can read my review
HERE
To enter the giveaway, please fill out the rafflecopter at the bottom of the page. :) Good Luck and Merry Christmas!!! This giveaway is open to everyone!
a Rafflecopter giveaway
23 comments:
I really want a Keurig because it's something that I probably won't buy for myself.
Thanks for contest Foretta

Post a Comment