Author Spotlight
Series Spotlight
Twitter Team
© 2012 Book Lovin' Mamas. All Rights Reserved.. Powered by
Blogger
.
Important Announcement for our Followers
To ALL our followers....It is time for Book Lovin' Mamas to make the switch from Blogger to Wordpress.
We do not want to wake up one day and notice that we cannot logon to our blog due to Blogger changing its policies.
We have worked too hard to have that happen...so it is long overdue, we have moved over to our domain.
It will make it easier for YA'LL to find us.
We have already started to post over at the new site...and August 1st will be official day we say GOODBYE to this site for good.
We would love for you to follow us over at our new site because we LOVE and appreciate you all for being with us on our Blogger site.
You can even click our blog badge below to go to our new site -
~*~*~*~*~*~*~*~*~*~*~*~*~*~*~*~
We hope to see everyone of you over there and I hope you all are prepared for lots of giveaways coming in August and are prepared for Anna & I's big 30th birthday bash - August 18th-September 5th.
We have lots of stuff to giveaway to you all and we are bringing our 30th birthday in style. =)
GOODBYE Blogger - It was nice while it lasted...but it's time for a BIG change and to make it easier for our followers to find us. =)
Saturday, March 30, 2013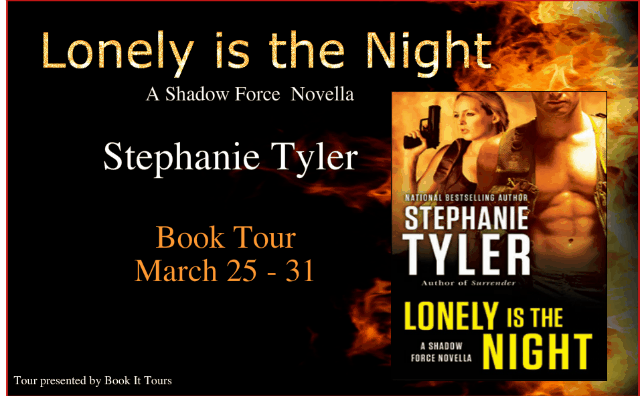 Lonely is the Night
Book 5
Released March 5th
Recently retired Delta Force Operator Reid Cormier utilizes his special skills by working black ops jobs all around the world with his former teammates and their wives. Reid's career keeps him busy, but he can't get his last job—or the woman involved—out of his head.
US Marshall Grier Vanderhall faked her own death without telling Reid of the plan first, and he couldn't forgive her duplicity. But when Reid learns that Grier has been kidnapped by a dangerous ring of criminals, he drops everything and heads to New Orleans to rescue her. And while Reid knows that his skills make him the best option to get Grier back, he's not sure if this mission will give them another chance—or get them both killed.
Forced together by fate, bound together by desire.
Framed for a double murder, Delta Force operative Cameron Moore is given a new lease on life by the CIA—provided he pays them back by doing their black ops dirty work. Now Cam is ready to renegotiate their deal, and he thinks he's found the perfect bargaining chip: Skylar Slavin, bestselling author of espionage thrillers and the daughter of the CIA man who saved him from a prison sentence.
Skylar has been living in anonymity, never suspecting that someone so dangerous—and so desirable—would plunge her into a world as treacherous as one of her spy novels. But how can Cam go through with his plan to kidnap Skylar when just the sight of her sets off an explosive attraction he's never experienced before? And when Skylar falls prey to an even more perilous threat, this special ops soldier must call upon all his combat skills to protect the one person who can help him win his freedom—and the only woman he's ever loved.
BUY IT HERE

Promises in the Dark
Book 2
On the run, in each other's arms, with one last chance to survive.
A rugged Navy SEAL, Zane Scott was part of a failed mission to rescue Dr. Olivia Strohm from abduction by the terrorist group Dead Man's Hand (DMH)—and her anguished screams have haunted him ever since. So when he gets word that the beautiful physician has escaped from her captors in Africa, he's got personal reasons to storm the continent and save her.
Like her would-be liberator, Olivia carries the burden of a dark secret from her past. Ruthless and relentless, the DMH has threatened to hunt her down – and to systematically hurt anyone she's close to. The last thing she wants is to be rescued—even by someone as shockingly handsome as Zane. Yet the hot-headed special ops hero has come for her, and together she and Zane just might have a shot at not only stopping DMH's reign of terror, but also saving what's left of their souls.
BUY IT HERE
With danger closing in, all they have is each other.

Haunted by a mission he barely survived, Delta Force operative Mace Stevens still carries a soldier's burden. Running a small bar in upstate New York, he remains a stone cold warrior who guards dangerous secrets and stays ready for anything. Anything except beautiful, vulnerable Paige Grayson, who shows up at his door, demanding answers about her heroic stepbrother's death under his command.

Paige bears burdens, too. She's plagued by demons unleashed by an older brother who committed mass murder before her eyes. But here in this snowy haven with Mace, she almost feels safe from the menacing promises of her insane sibling. As a nurse whose hands can read the deepest thoughts of anyone she touches, Paige knows Mace needs her as desperately as she needs him. And when a faceless killer begins unleashing fresh terror, Mace proves just how far he will go to save the woman who means everything to him.
Night Moves
Book 4
Anything can happen under the cover of darkness.
Kell Roberts has walked the thin line between life and death for so long that it now feels like home. He is a soldier, a survivor, and a loner. Still, Kell cannot turn his back on the beautiful woman caught in his firefight against the drug lords of Mexico. She says her name is Teddie, but Kell senses there's much more to her story—and it's about to pull him into a mission he didn't sign on for: keeping her alive.
Teddie Lassiter knows this lean, mean rescuer just saved her life, but the steel glint behind those soft gray eyes seem to be hiding something deep. The men after Teddie are deadly, but the man who holds her life in his hands and tempts her with his wicked touch is even more dangerous. He could make her dream about living and loving again. And if they can survive, maybe, just maybe, they can stop fighting the world and each other—and simply surrender.

Connect with Stephanie on the Web
Stephanie Tyler on Facebook
Stephanie Tyler on Twitter
Stephanie Tyler on Pinterest
Stephanie Tyler on Goodreads
Random House
Tour Schedule:
3/25-26
The Smutketeers
3/27
Day Dreaming Book Reviews
3/28
My Secret Romance
3/29
Ms. Romantic Reads
3/29
Talk Supe
3/30
Book Luvin Mamas
3/31
Under The Cover Book Blog
a Rafflecopter giveaway
6 comments:
I an equal love for both paranormal and romantic suspense. They both include seductive, alpha males and there's always danger.
My favourite genre to read is romantic suspense.
My favorite is paranormal.
Mainly PNR but once in a ahile ill read a historical Romance just to switch it up :)
I read both but my favorite is paranormal.
Post a Comment