Author Spotlight
Series Spotlight
Twitter Team
© 2012 Book Lovin' Mamas. All Rights Reserved.. Powered by
Blogger
.
Important Announcement for our Followers
To ALL our followers....It is time for Book Lovin' Mamas to make the switch from Blogger to Wordpress.
We do not want to wake up one day and notice that we cannot logon to our blog due to Blogger changing its policies.
We have worked too hard to have that happen...so it is long overdue, we have moved over to our domain.
It will make it easier for YA'LL to find us.
We have already started to post over at the new site...and August 1st will be official day we say GOODBYE to this site for good.
We would love for you to follow us over at our new site because we LOVE and appreciate you all for being with us on our Blogger site.
You can even click our blog badge below to go to our new site -
~*~*~*~*~*~*~*~*~*~*~*~*~*~*~*~
We hope to see everyone of you over there and I hope you all are prepared for lots of giveaways coming in August and are prepared for Anna & I's big 30th birthday bash - August 18th-September 5th.
We have lots of stuff to giveaway to you all and we are bringing our 30th birthday in style. =)
GOODBYE Blogger - It was nice while it lasted...but it's time for a BIG change and to make it easier for our followers to find us. =)
Wednesday, March 13, 2013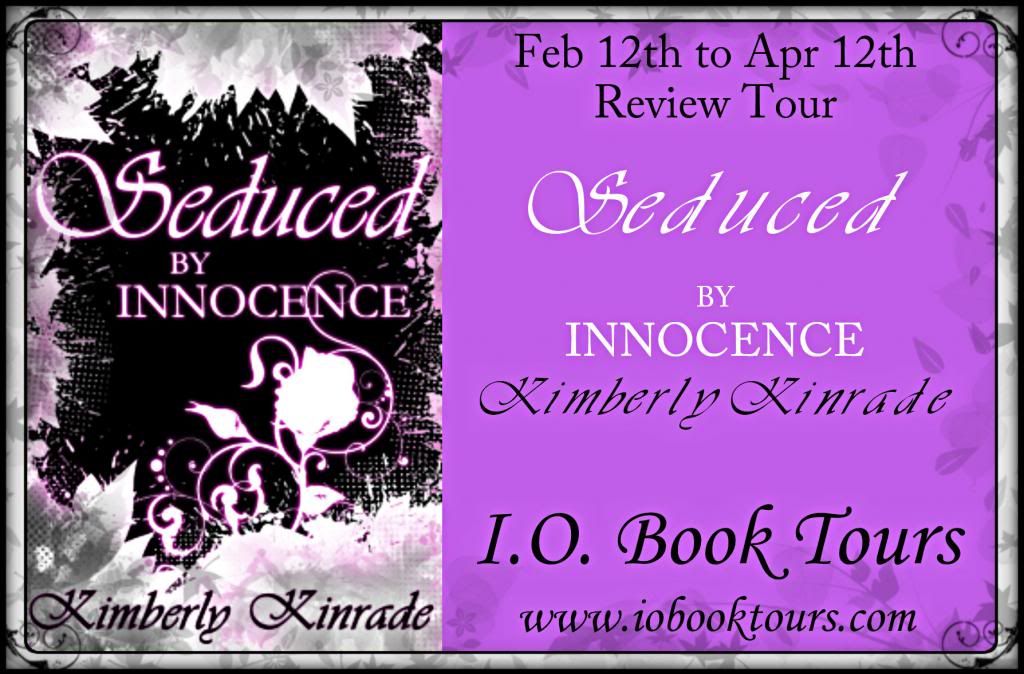 Welcome to our stop on the review tour of "Seduced by Innocence" by Kimberly Kinrade brought to you by I.O. Book Tours.
By: Kimberly Kinrade
Publishing Date: 1/28/13
Publisher: Daring Books
Genre: Paranormal Romance
Source: Provided by Author (Blog Tour)
Description:
Seduction comes in many forms.
"Liquid fire poured into me, filling me with the intimate sense of him as he leaned in to claim my lips with his own. I reached for him, needing him closer, but my arms couldn't close the distance between us, which grew wider with each hitched breath. So close to finally feeling something real, something carnal and deep, I cried out in frustration, dropping my hands as he disappeared. My cries deepened into a frenzy of panic and my eyes flew open. I clutched my blanket and stilled myself to calm my racing heart.
Just a dream. Always just a dream."
Rose Wintersong didn't have an ordinary upbringing. Raised in what most would call a hippy commune, but what is actually a powerful coven of witches, she never questions the life fate chose for her.
Until she meets Derek O'Conner.
Derek challenges everything Rose believes and forces her to see the secrets hidden beneath the whitewashed walls of her idyllic country life.
Rose knows she should walk away, that the sexy martial arts instructor is bad news bred to create discord in her tight community… but the animal magnetism between them is impossible to fight.
Caught between the passion of first love, and the steady beat of the life she's always known, Rose must choose between the innocence of her youth or the pleasures of womanhood—but lost innocence comes at a price, and Rose harbors a dark secret that could destroy everyone she loves—including Derek.
Submit to the Seduced Saga as Derek and Rose face their future while unraveling the mysteries of their past.
Look for these books in 2013.
January -Seduced by Innocence
February 14, 2013-Seduced by Pain
TBA-Seduced by Power
TBA - Seduced by the Sea (Ocean's Story)
My Review:
Seduced by Innocence is the first book in Kimberly Kinrade's Seduced Saga, which is about two powerful paranormal families that have it out for each other. One family that can shift, while the other that can call upon the elements to help them.
When reading this book, you'll read quotes from William Shakespeare's famous Romeo & Juliet and the storyline of it has a
star-crossed
lover feel to it. Here is Rose, the innocent girl who is kept away from everyone except her coven, and Derek, the bad boy biker, who is trying to make it on his own with his Druid family and these two cross paths one day. They fall for each other hard. Rose has seen Derek in her dreams and Derek cannot help but feel a connection with Rose. They even have people around them telling them, they are meant to be together, but they both hide secrets from each other and if those secrets come out, they may end up hating each other, or worst killing each other.
I will not go into describing the storyline due to the synopsis of the book giving it in good detail.
I will tell you what I did like and did not like about Seduced by Innocence.
The parts that I adored about this book was the romance between Rose and Derek and how love at first sight happened between them both. I loved Derek not only because he was a bad boy, but he changed the minute he was with Rose because he made him want to be better. I loved Rose because here she is trying to control the power she has and Derek is actually teaching her to control it better and has no idea that she has this power.
What I did not like was the evil wench of Rose's mother and the annoying stalker, Blake. They both got on my nerves. Blake was kind of a creeper and weirded me out several times. Here it is he's doing whatever Rose's mother wanted and he has a thing for Rose, but I think he has his own secret agenda. The mother has a secret agenda for herself and Kimberly Kinrade only touched a little bit on what could be happening between the
feuded
paranormal families.
Here it is the families are hating each other, but Kimberly throws in a twist where maybe there is something else going on and maybe it is just one family out for the other. You have no idea really because Kimberly leaves you hanging and I do love cliffhangers so thank goodness I can buy the second book and find out what happens next otherwise I would go insane.
I did really enjoy the Romeo and Juliet feel of the story and it makes me want to read the play and watch the old movie version of it again. The quotes before each chapter definitely went with each chapter perfectly.
I also loved certain things in the story that made me smile. One of those things was when Kimberly mentioned Ansel Adams in the story. He was one of my favorite photographers that I have looked up to for awhile now. I enjoyed Kimberly Kinrade's writing style and how she made Shakespeare's star crossed lovers into a paranormal world setting and took her own twist of it.
It was short, but I was prepared ahead of time for Kimberly Kinrade to leave me wanting more.
I liked the story, and I look forward to the next one. I am just hoping the mother and Blake do not make me mad like they did in this book. I hope Rose steps up to her mother because no one should be treated that way. I also hope the truth comes out on what is actually going on because it just was not really covered in the first book.
If you want to read a book about two lovers who are supposed to hate each other due to their families hating each other, you will enjoy Kimberly Kinrade's paranormal version of Romeo & Juliet.
Here's hoping the next book does not make me cry like this one did though. Poor Rose and what she endured with her mother and what happened to one of her close pals. =(

Kimberly Kinrade was born with ink in her veins and magic in her heart. She writes fantasy and paranormal stories for all ages and still believes in magic worlds. Check out her YA paranormal series The Forbidden Trilogy, her lower grade fantasy series The Three Lost Kids, and watch for her New Adult romance and fantasy books coming in 2013 including The Seduced Saga, Sunrise and Nightfall, Death by Destiny and The Fallen Trilogy and her next YA fantasy adventure, The Reluctant Familiar. You can find her books on Amazon, B&N and Goodreads among other fine retailers.
When she's not writing, she runs Daring Books Design & Marketing with her husband, Dmytry Karpov, where they help authors with all manner of marketing, editing, and design needs until such a time that their brilliant children take over the business for them.
She lives with her three little girls who think they're ninja princesses with super powers, her two cats who think they're gods (and probably are), her two dogs who think they're humans and her husband, also known as the sexy Russian Prince, who is the love of her life and writing partner.
1 comments:
Thank you for taking the time to read and review :)
Post a Comment