Twitter Team
© 2012 Book Lovin' Mamas. All Rights Reserved.. Powered by
Blogger
.

Important Announcement for our Followers
To ALL our followers....It is time for Book Lovin' Mamas to make the switch from Blogger to Wordpress.
We do not want to wake up one day and notice that we cannot logon to our blog due to Blogger changing its policies.
We have worked too hard to have that happen...so it is long overdue, we have moved over to our domain.
It will make it easier for YA'LL to find us.
We have already started to post over at the new site...and August 1st will be official day we say GOODBYE to this site for good.
We would love for you to follow us over at our new site because we LOVE and appreciate you all for being with us on our Blogger site.
You can even click our blog badge below to go to our new site -
~*~*~*~*~*~*~*~*~*~*~*~*~*~*~*~
We hope to see everyone of you over there and I hope you all are prepared for lots of giveaways coming in August and are prepared for Anna & I's big 30th birthday bash - August 18th-September 5th.
We have lots of stuff to giveaway to you all and we are bringing our 30th birthday in style. =)
GOODBYE Blogger - It was nice while it lasted...but it's time for a BIG change and to make it easier for our followers to find us. =)

Tuesday, April 3, 2012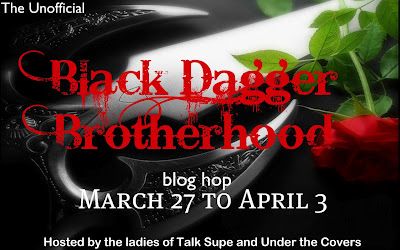 Sorry it took me forever to read this book...but Motherhood comes first and my youngest has become a chatterbox lately and very active, refusing to take a nap during the day. She's almost 5 months old and she's afraid she's going to miss something during the day. Every time I picked up the book to read, she would look at me crazy. Those eyes of hers, telling me, you better not put me in that swing or put me on my tummy for tummy time...so you can read that book. Gotta love her though.
Lover Reborn
(BDB #10)
Publishing Date: 3/27/12
Publisher: NAL Hardcover
Genre: Paranormal Romance
Source: Hardcover (Bought)
Description:
#1 New York Times bestselling author J. R. Ward's "different, creative, dark, violent, and flat-out amazing"* Black Dagger Brotherhood continues as a vampire warrior crosses the line between life and death…into a world of dark dreams and darker desires.
Ever since the death of his shellan, Tohrment is a heartbroken shadow of the vampire leader he once was. Brought back to the Brotherhood by a self-serving fallen angel, he fights again with ruthless vengeance- and is unprepared for a new tragedy. Seeing his beloved in dreams—trapped in a cold, desolate netherworld—he turns to the angel to save his former mate, only to despair at the path he himself must take to set her free. As war with the lessers rages, and a new clan of vampires vies for the Blind King's throne, Tohr struggles between an unforgettable past, and a future that he doesn't know he can live with… but can't seem to turn away from.

My Review:
First off...let me go ahead and type right now if my review sounds kind of jumbled or all over the place it's because this Mama is beyond exhausted at this moment. I stayed up late almost every night to read this book so I can type up the review for today. I was able to squeeze in sometime during the daylight hours to read this book, but unfortunately my two girls had other plans for me during the day. My oldest would always complain she's bored and wants something to do (so I made her clean her room) and my youngest of course just coos at me or screams at me when I'm not showing her my full-attention. (She's 5 months old and already back talks me). Yup...needless to say. I'm beyond exhausted, but this book was well worth staying up at night to read until 2 or 3 am in the morning to sneak in some chapters while my girls were asleep. Hubby of course, knew better than to disturb me when I read this book.
Warning: This book will take your through a emotional, crazy ass ride that will make you want to go into the book and kick some ass too.
My thoughts on Lover Reborn is I cried so many times, I lost count. I had tissues next to me the whole time because it was an emotional roller coaster reading this book. I was prepared to do some crying since it's Tohrment's book...but dang...not that friggin' much. I wasn't expecting to cry over something else also in this book. I about went into the book and saved the DAMN Vampire myself. I wanted to shred Xcor to pieces...that piss of crap. GRRRR!! How dare he!! How dare his group of BoB's. I friggin' hate them. I thought when I read Lover Unleashed, that I wanted to know more about him. Now...I don't. Hell to NO. Go to HELL, XCOR!! I hate your guts! And I hate your so called Brotherhood of wannabes.
Tohrment had me in pieces throughout the book. Here's a Vamp who is having a hard time getting over his beloved shellan that died and his unborn son. He didn't know he was making Wellsie and his son suffer in the "In Between" (which you must read the book to find out what it is). He never expected to fall in love again or actually feel attracted to another female vampire.....but it just happened when he saw her in the pool, swimming...and of course naked. Something sprang up in him and he couldn't stop it.
No'One...he knew her from before. He actually saved her from before. No'One is Xhex's mother who has suffered so much. All she wants to keep busy and clean around the mansion. Who knew the sexy, tormented, Tohr, would catch her eye and she would fall in love with him.
Lassiter the Angel plays a big role in the book that helps No'One and Tohrment get together in the end. He's main focus is to get Tohr to help Wellsie and his unborn son to go into the Fade...because if they stay in the "In Between" they will be gone forever.
Quinn is also in this book again and boy...am I upset with him at the end. And that stupid ass, Layla. Grrr!!! I realize she had no clue what she was doing, but really. I won't even go into that. I'm so mad at her.
Blay and Saxton also played a minor role in this book...all I can say is I'm looking forward to Quinn and Blay's book a lot more because of what happened between them in this book.
Another main couple in this book was Xhex and John. Xhex is not your normal Female...she can kick your ass, my ass and every males ass out there. She's not to be messed with and what John did to her and the Brotherhood did...no wonder why she moved out.
I thought J.R. Ward couldn't get me to cry anymore after Vishous's book and Rhage's book...but damn her, she proved me wrong.
There's just one incident in this book that took the crying over the edge though and I would've never forgave J.R. Ward if she killed him off. Oh...I'm so friggin' happy he's okay. He's been a favorite character of mine since I read his book.
I recommend this book to anyone who loves Paranormal Romance and loves Vampires. No...this is nothing like Twilight...so don't even go there. These Vampires don't Sparkle. These Vampires would friggin' laugh at Edward and eat him alive.
If you haven't picked up the Black Dagger Brotherhood Series to read yet, what are you waiting for. Just a warning when you do, you will fall in LOVE with the characters. You will actually miss them after you are done reading each and every book. Thank goodness J.R. Ward will continue to write the other characters in the series. I love finding out what my face characters are doing.
Now on with the waiting for the next book to come out... =(