Author Spotlight
Series Spotlight
Twitter Team
© 2012 Book Lovin' Mamas. All Rights Reserved.. Powered by
Blogger
.
Important Announcement for our Followers
To ALL our followers....It is time for Book Lovin' Mamas to make the switch from Blogger to Wordpress.
We do not want to wake up one day and notice that we cannot logon to our blog due to Blogger changing its policies.
We have worked too hard to have that happen...so it is long overdue, we have moved over to our domain.
It will make it easier for YA'LL to find us.
We have already started to post over at the new site...and August 1st will be official day we say GOODBYE to this site for good.
We would love for you to follow us over at our new site because we LOVE and appreciate you all for being with us on our Blogger site.
You can even click our blog badge below to go to our new site -
~*~*~*~*~*~*~*~*~*~*~*~*~*~*~*~
We hope to see everyone of you over there and I hope you all are prepared for lots of giveaways coming in August and are prepared for Anna & I's big 30th birthday bash - August 18th-September 5th.
We have lots of stuff to giveaway to you all and we are bringing our 30th birthday in style. =)
GOODBYE Blogger - It was nice while it lasted...but it's time for a BIG change and to make it easier for our followers to find us. =)
Friday, May 11, 2012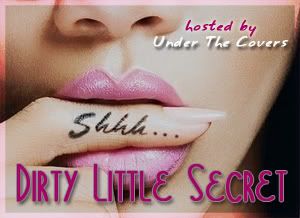 Dirty Little Secret is a weekly meme hosted by us at Under the Covers. Every Thursday we get to know other bloggers and our readers more intimately by asking them a question hoping to reveal their dirty little secrets. We hope that you will all join us!
This week's question
:
We've heard a rumor that Ryan Seacrest is using Fifty Shades of Grey as a manual in the bedroom.
What book would you give a guy to study up on?
Anna
I can't pick just one book but I can narrow it down to a few. :) Faefever or Shadowfever...just as long as he can learn from Barrons I'm happy. LOL The Dark Highlander because if a man can talk to a woman like Dageus can, then he's perfect. And Nauti Dreams because Natches knows how to give it to a woman if you know what I mean. ;)

FranJessca
I've had to think about this one all day. =) I've told my hubby several times already that he could learn a few things from Gideon Cross (Bared to You - by Sylvia Day). Just a few things though.
For any guy out there really, they could learn some things from ALL the male characters in Terry Spear's Heart of the Wolf Series. Yes, I said ALL. Each alpha male character is different, but they know how to take care of their women.
Then there's also Micah and Nathaniel from the Anita Blake Series. Yes, guys should definitely learn from them. Two of my FAVE male characters ever.
2 comments:
I haven't read the whoel Heart of the Wolf series, but the one book I read was good. However, I'm currently reading Bared to You and YOU COULDN'T BE MORE RIGHT! Yes, Gideon Cross.... I have some parts highlighted already ;)

And Anna, you can't go wrong giving any man a Lora Leigh book as an instruction manual.

Francesca
Anna, you can't go wrong giving a man a Lora Leigh book as an instruction manual.

FranJessca, I've only read one Heart of the Wolf book so I don't have much of an opinion on that, however Bared to You I'm currently reading and yes, I've highlighted a few parts already!

Francesca
Post a Comment