© 2012 Book Lovin' Mamas. All Rights Reserved.. Powered by
Blogger
.

Twitter Team

Lolita Lopez's Grabbed Series Blog Tour (Interview/Giveaway)
Tessa Dare - "Beauty and the Blacksmith" & "Any Duchess will do" Blog Tour (Spotlight) + Giveaway
Blog Tour: "Infinity" by Sedona Venez (Spotlight/Giveaway)
Christine Wenrick's "The Charmed Trilogy" Blog Tour (Spotlight/Interview) + Giveaway
The Infernal Detective Book Blast Tour (Giveaway)
UNLEASH Blog Barrage (Giveaway at Felicity Heaton's Site)
Interview + Giveaway with Samantha Grace
Guest Post + Giveaway with Sara Humphreys
Natalie Nicole-Bates "Back To You" Book Blast Tour (Giveaway)
Interview + Giveaway with Terry Spear - Natasha D. (claimed prize)
Sinful Sirens Giveaway Hop Winner: Jessica DeLuna (Email Sent)

Thursday, June 21, 2012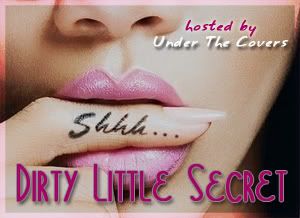 Dirty Little Secret is a weekly meme hosted by us at Under the Covers. Every Thursday we get to know other bloggers and our readers more intimately by asking them a question hoping to reveal their dirty little secrets. We hope that you will all join us!
This week's question:
What book would you recommend to heat up your summer?
Anna:
I recommend a whole series. I've fallen in love with Moira Rogers' Bloodhound series! Wilder's Mate, Merrick's Destiny, Hunter's Prey and Archer's Lady which is the one I'm so excited about reading. I so love this series and I know it sure heats things up for me! ;)
FranJessca:
I actually recommend two books. One by Sylvia Day and the other by Callie Croix. =)
Love these two Authors.
Bared to You by Sylvia Day (which if you've read the Fifty Shades Trilogy, you may think this book is like that trilogy...I haven't read the Fifty Shades...so I can't compare...I've only heard from other bloggers who have read both) Just to let everyone know though...Gideon...is claimed. J/k
And "Let Me In" by Callie Croix. It's a short, steamy erotic read. I read it in one day...and I'm still thinking about it =)