Author Spotlight
Series Spotlight
Twitter Team
© 2012 Book Lovin' Mamas. All Rights Reserved.. Powered by
Blogger
.
Important Announcement for our Followers
To ALL our followers....It is time for Book Lovin' Mamas to make the switch from Blogger to Wordpress.
We do not want to wake up one day and notice that we cannot logon to our blog due to Blogger changing its policies.
We have worked too hard to have that happen...so it is long overdue, we have moved over to our domain.
It will make it easier for YA'LL to find us.
We have already started to post over at the new site...and August 1st will be official day we say GOODBYE to this site for good.
We would love for you to follow us over at our new site because we LOVE and appreciate you all for being with us on our Blogger site.
You can even click our blog badge below to go to our new site -
~*~*~*~*~*~*~*~*~*~*~*~*~*~*~*~
We hope to see everyone of you over there and I hope you all are prepared for lots of giveaways coming in August and are prepared for Anna & I's big 30th birthday bash - August 18th-September 5th.
We have lots of stuff to giveaway to you all and we are bringing our 30th birthday in style. =)
GOODBYE Blogger - It was nice while it lasted...but it's time for a BIG change and to make it easier for our followers to find us. =)
Thursday, June 14, 2012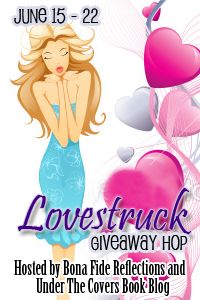 Welcome to our stop on the Lovestruck Giveaway Hop hosted by Under The Covers Book Blog and Bona Fide Reflections.
Love-struck: (adjective) having a passionate or overwhelming feeling of love; smitten
This blog hop is all about those books or characters you have fallen in love with and no others compare to them. So
I decided to do something special. Since it's all about showing off favorite characters that you've pretty much fallen in love with, I remembered one in particular that stood out above all others. Cherrie Lynn's Rock Me was one of the first Erotic Romance's I read when I bought my Kindle a couple of years ago and Brian, well let's just say he's to die for! Seriously, it's impossible not to love him. So to show him off a bit I asked Cherrie if I could do a little interview with Brian and to my shocked surprise, she said yes! I added the book description for those who haven't read this one yet. Brian is a sexy, tattoo covered bad boy who loves good music and treats his girl oh-so-good (if you know what I mean)! ;)
Thank you so much Cherrie!!!


This is an 18 & Over ONLY Interview!!!


Loving him couldn't be worse than losing him. Could it?
Candace Andrews has had enough of pleasing others. In an act of birthday rebellion, she sets out to please herself—by walking into the tattoo parlor owned by her cousin's ex-boyfriend. All she wants is a little ink, and Brian's just the guy to give it to her.
As soon as she submits to his masterful hands, though, the forbidden attraction she's always felt for him resurfaces…and she realizes the devilishly sexy artist could give her so much more.
Sweet, innocent Candace is the last person Brian expected to see again. She's everything he's not, and her family despises him. He doesn't need the hassle, but he needs her, and this time no one is taking her away. Not even those who threaten to make his life a living hell.
Backed into a corner, Candace faces the worst kind of choice. Cave in to those who think Brian is a living nightmare…or hold her ground and risk it all for the one man who rocks her world.
Warning: This book contains explicit sex, naughty language, tattoos aplenty, family drama, a hot rock concert…and a bad boy hero who's pierced in all the right places.
Welcome to Book Lovin' Mamas Brian! I am a huge fan of yours!!! Thank you so much for agreeing to an interview.
Thanks for letting me hang out.
Q) It's been a while now since we last heard from you. How have you been and what have you been up to? How is Candace?
Man, things have been stellar, and Candace is great. She's mainly WHY things have been stellar. There's been some shaking up in personnel at Dermamania, and that's been stressful. I'm also looking at expanding because we're drawing in so much business from neighboring towns, and that's awesome but it also just adds on to the heap. But she's always right by my side. She's graduating soon, you know. I'm so damn proud of her.
Q) Would you happen to have any big news you would like to share? Maybe some big future plans? *wink wink*
Business expansion. That's pretty big. But I'm sure you're talking about something else. Candace and I, we're taking our time. Hell, I'd marry the girl tomorrow if I could. But if there's one thing she's taught me, it's using my head. And patience. That's been the toughest one to learn.
Ask me again after she's done with school and things settle down a bit. *grins*
Q) Could you tell us a little bit about how you decided to become a tattoo artist?
I always loved to draw, ever since I was a kid. It was one of the few things I felt like I was really good at. Hey, I practiced on (my brother) Evan's face a lot when he was sleeping. *laughs* No really, it was something that was almost cathartic for me; I was always doing it. I got sent to detention so many times just because I'd spend an entire class period drawing. Usually some weird, fucked-up shit that scared my teachers.
Anyway, when I turned eighteen, Ghost and I lit out of town to celebrate with some friends in Dallas. Ghost already had a couple tattoos and he dragged me to a parlor there to get my first one. This guy named Marco owned the place with his wife Kara, and he hooked me up. It was just...incredible. I only thought my art was cathartic, but I felt like a whole new person after he was done. His work is just insane. I watched the process and thought, "This is what I want to do." So in my typical fashion, I bugged the shit out of him, asked a million questions, went back a few days later and showed him some of my artwork. I told him I'd be willing to move there if he'd teach me everything he knew. I figured he'd say "Get the hell out of here, kid," but he didn't. He and Kara are some of the coolest people I know. There was a time I practically lived with them while I did my apprenticeship. If I'm even half as good as that guy, then I'd consider myself awesome at what I do.
Q) I'm sure I already know the answer to this question but what is your favorite piercing? *blush*
Ha! It might not have been my favorite one to get (Jesus H, it fucking hurt), but yeah. I'm sure you guessed it. The apadravya most definitely does not suck. I think Candace would agree.
Q) I know you enjoy your music. Have you been to any good concerts lately? Looking forward to any that are coming up?
We caught Korn again recently—those guys are always touring. Which is good because well, you know, they kinda hold a special place with me and Candace now. If you know the story, I'm sure the whys are pretty obvious...
I'm looking forward to the Mayhem Festival. Slipknot and Slayer, man. Can't beat it.
Q) My next question is a bit personal but I have to ask. When it left off at the end things were still touchy with Candace's parents. Has it gotten any better or worse since then?
It's...stable. That's probably the best way to describe it. We're civil, even if that only means I stay out of their way and they stay out of mine for the most part. And there really aren't that many occasions when I have to be around them, which is damn fine with me. But even when we're together, it's all right. I doubt they'll sing hallelujah when I propose, and I'm sure they're rooting silently for me to fuck up majorly or go to jail or some shit like that. But it's not happening.
Now for some fun questions...
Q) If you could only go to one more live show, who would you go see?
Nine Inch Nails. I only got to see them one time and damn, it was like a religious experience.
Q) If you had unlimited time and unlimited funds, where would you take Candace (on vacation) and what would you do there?
I've never been much of a traveler, but I really loved Hawaii when I went there with my ex for my brother's wedding. It would be nice to make some new memories with the woman I love. Despite all Candace's traveling with her family, she's never been. But that would just be our first stop. I'd love to take her to meet my family in Florence, show them all I finally managed to get something right in my life. My mom has already been teaching Candace some Italian. I have too, but I'm not quite fluent.
And then of course there's Vegas, just because we're crazy like that. She's never been there, either, which isn't surprising, knowing her family. I love showing her how the other half lives. *grins*
Q) You're stranded on a desert island (with Candace of course), what is one thing you absolutely have to have, can't live without it?
I'll assume we've been able to meet basic necessities and say art supplies. If I didn't have any on the island, I'd be drawing in the sand. And that would suck. Or... crushing berries to draw on Candace. That would not suck. Uh, maybe I should rethink this. I guess the obvious answer is that as long as I have her, I'm good.
Q) Now, I've read some things here and there about a certain friend of yours and a certain friend of Candace. Can you tell me anything? Anything at all? Please? You're friends with Ghost, surely you know some good inside details...right? ;)
*Laughs* Poor guy. Most people looking in from the outside would say they'd never in a million years see Ghost and Macy together. But I know he loses his idiot head over girls like her, and then he gets his heart splattered all over hell, and then I'm the one trying to force his drunk ass to rejoin the world of the living. Been there, have the fucking T-shirt.
This time, though, I'm not all that worried. I wasn't too sure about her for a while, I thought she was stuck up. But she really has come through for him when he needed her, and even I've seen another side to her lately. I think they're going to be all right. Other than that, though, you'll just have to wait and see...
Alright alright, I'll be patient and wait for the next book. *sigh* Thank you so much Brian, for letting me pick your brain a little bit. And another thank you for being the most amazing character to read about.
Hey, no problem. Glad to be here. And stop by the parlor... your ink's on the house. *wink*
Link to the book:
Amazon
Barnes&Noble
Samhain
Author's Website:
www.cherrielynn.com
And make sure you're on the look out for the next book which will be Ghost and Macy's story. I can't wait for that one.
Giveaway
I'm offering up 1 copy(paperback or e-book, winner's choice) of Rock Me to a lucky winner. Just fill out the rafflecopter....
YOU HAVE TO FILL OUT THE RAFFLECOPTER
...be a follower and leave a comment letting us know if you've read the book and if so, did you fall in love with Brian too???
a Rafflecopter giveaway
31 comments:
I haven't read this one but it sounds pretty good! Definitely a little different. Will have to check it out :)

Thanks!
Post a Comment