Author Spotlight
Series Spotlight
Twitter Team
© 2012 Book Lovin' Mamas. All Rights Reserved.. Powered by
Blogger
.
Important Announcement for our Followers
To ALL our followers....It is time for Book Lovin' Mamas to make the switch from Blogger to Wordpress.
We do not want to wake up one day and notice that we cannot logon to our blog due to Blogger changing its policies.
We have worked too hard to have that happen...so it is long overdue, we have moved over to our domain.
It will make it easier for YA'LL to find us.
We have already started to post over at the new site...and August 1st will be official day we say GOODBYE to this site for good.
We would love for you to follow us over at our new site because we LOVE and appreciate you all for being with us on our Blogger site.
You can even click our blog badge below to go to our new site -
~*~*~*~*~*~*~*~*~*~*~*~*~*~*~*~
We hope to see everyone of you over there and I hope you all are prepared for lots of giveaways coming in August and are prepared for Anna & I's big 30th birthday bash - August 18th-September 5th.
We have lots of stuff to giveaway to you all and we are bringing our 30th birthday in style. =)
GOODBYE Blogger - It was nice while it lasted...but it's time for a BIG change and to make it easier for our followers to find us. =)
Thursday, February 21, 2013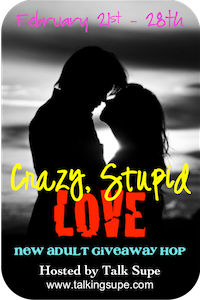 Welcome to our stop on the Crazy, Stupid Love New Adult Giveaway Hop hosted by Talk Supe.
I thought I share with you a New Adult book I read last year that I loved so much, I almost threw my Kindle against the wall. (Yes...it is one of those books)
I have a love/hate situation with two of the male characters. I HATE Jack and LOVE Ramsey.
I'm hoping to finish the 2nd book to the series before the novella comes out the end of this month.
I need more of Ramsey and must find out if Jack gets a swift kick in the butt.
Now here's your chance to win a Kindle edition of "Avoiding Commitment" by K.A. Linde
Just fill out the Rafflecopter below to enter.
Open to U.S. Residents Only.
Winner will be contacted on 3/1/13
a Rafflecopter giveaway
Make sure to stop along the other stops of the Giveaway Hop as well:
49 comments:
I'm not sure what is classified as new adult but I am a huge fan of the Up in the Air series by R.K. Lilley - some list this as new adult. This is my most recent read and couldn't get enough of it!
Post a Comment